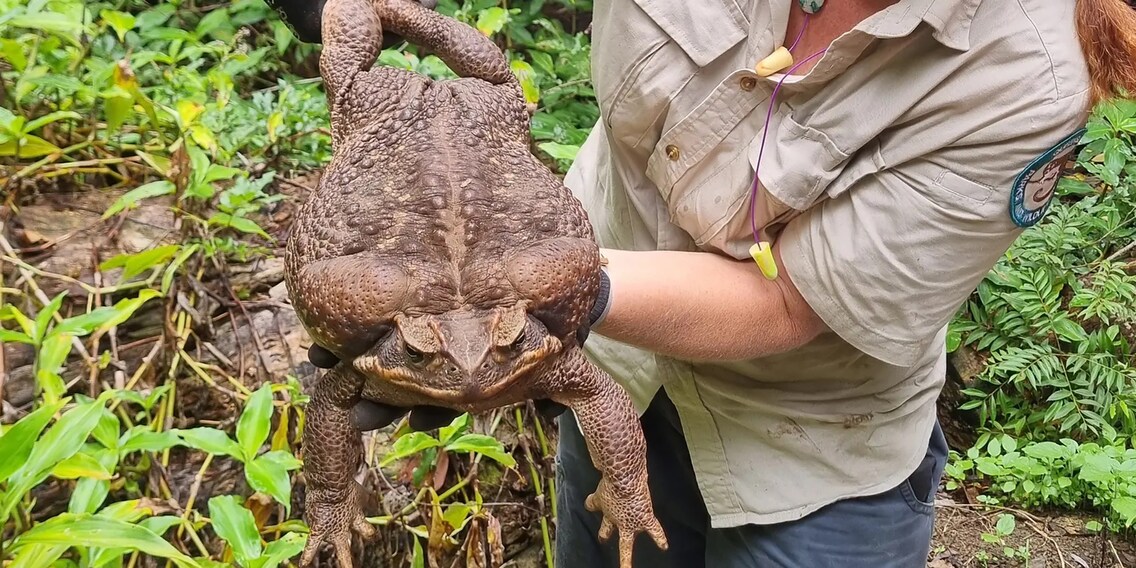 This article was translated automatically.
Toadzilla was captured
Aga toads have a notoriously bad reputation in Australia: the introduced amphibians eat their way through the native fauna - especially when they grow so large.
It all started with a good intention: to protect the valuable sugar cane plantations from voracious beetles, Australians introduced agacutes (Rhinella marina) to Queensland in the 1930s. But the poisonous amphibians did not limit themselves to the six-legged creatures, but developed a great appetite for other amphibians, snakes, small mammals or birds and spread massively across the fifth continent. Today, they are considered a threatening land pest that is fought with all means. But sometimes individual specimens shock even hardy rangers, as reported by the Queensland Department of Environment and Science.
Kylee Gray was travelling with her team in Conway National Park in Queensland when they had to stop their vehicle because a snake crossed their path. When they got out for a closer look, they noticed a huge aga toad right next to the road. "I grabbed the toad and couldn't believe how big and heavy it was," Gray said. "We named it Toadzilla and quickly put it in a container so we could remove it from the wild."
In total, the animal weighed 2.7 kilograms and turned out to be a female, closer examination revealed. These grow larger than the males, but no other specimen has been found in these dimensions. It may even be a new weight record for the species. "An aga toad of this size will eat anything that fits in its mouth, including insects, reptiles and small mammals," Gray said. It remained unclear how old the animal is. However, these amphibians can live up to 15 years. Given the size, Gray and co suspect that the animal had been living in the area for a long time.
Since female aga toads can lay up to 30,000 eggs per season, the rangers are glad to have caught the specimen called Toadzilla. It may end up in the Queensland Museum as the toad could be the new record holder for the species. Aga toads have few natural enemies in Australia as predators such as prey martens, snakes or crocodiles are not adapted to their venom and can die from eating them. Inversely, the amphibians consume many Australian species and endanger them. Since domestic animals have also died from their poison, these amphibians are being intensively controlled - without this having stopped their advance. They are now widespread throughout eastern and northern Australia.
Spectrum of Science
We are partners with Spektrum der Wissenschaft and want to make sound information more accessible to you. Follow Spektrum der Wissenschaft if you like the articles . Originalartikel auf Spektrum.de
Titelbild: © Queensland Department of Environment and Science (Ausschnitt). Diese riesige Agakröte fanden Ranger nur durch Zufall. Wegen seiner Grösse nannten sie den Lurch «Toadzilla».
---



Experts from science and research report on the latest findings in their fields – competent, authentic and comprehensible.
---
These articles might also interest you
Skeleton Loader

Skeleton Loader

Skeleton Loader

Skeleton Loader

Skeleton Loader

Skeleton Loader