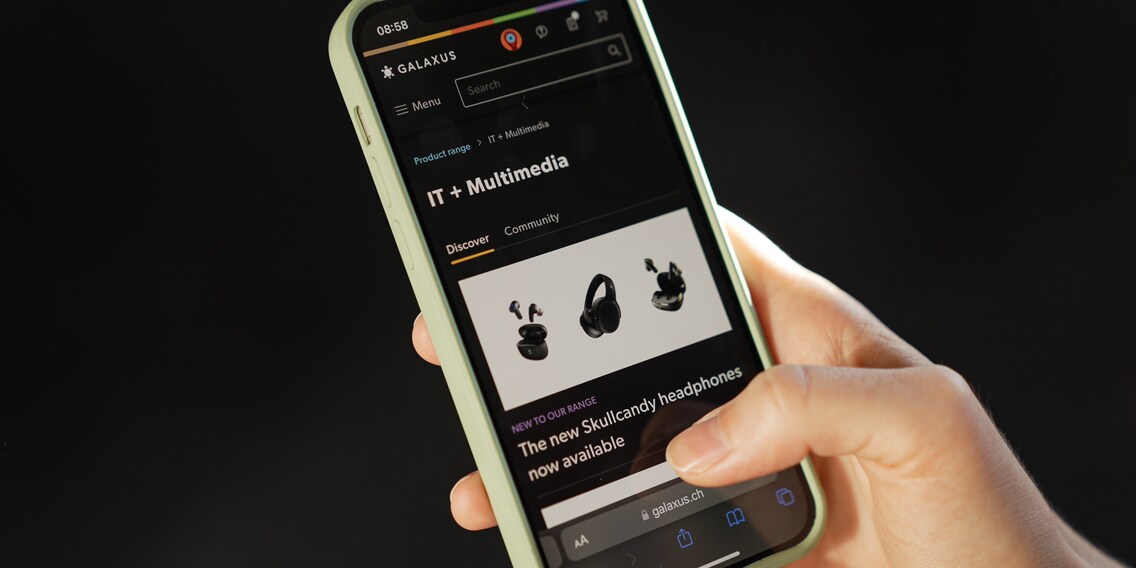 Digitec and Galaxus now available in dark mode

Digitec Galaxus has become one of the first online retailers in Europe to offer dark mode on all of its web shops and apps. The feature reduces eye strain and makes shopping at night – or with the curtains drawn – that little bit more pleasant.
Galaxus and Digitec customers now have the option of shopping in dark mode, with both online shops now available as white text on a black background. The Community has been waiting for this moment for a long time, with one thread calling for dark mode to be introduced gaining more than 1,500 upvotes. Articles published in our magazine have also garnered hundreds of comments on the issue.
«We're delighted to finally be able to grant our customers' request,» says Tobias Grundmann, the Digitec Galaxus Product Owner responsible for the new feature. «Dark mode has been high on our list for a long time, both to us and the Community,» Tobias says. «Over 30 percent of our users have dark mode enabled on their devices – and the numbers are growing.» This increasing number of dark-mode users, Tobias says, was the tipping point that prompted his team to introduce the feature. Not only that, but they were also keen to set a dark-mode inspired trend in the online retail sector: «Implementing something so new is exciting. Hardly any other online shops in Europe have made dark mode available on both their websites and apps,» Tobias says. In the summer of 2022, the team set about making dark mode a reality at Digitec Galaxus.
A huge undertaking
For various reasons, it took a while for the work on dark mode to get off the ground. Tobias explains that implementing it was a huge undertaking. Ultimately, a project like this involves the entire shop, various teams and a whole host of technical challenges.
In thousands of areas on the Galaxus and Digitec websites, colours are predefined. «In some of these areas, the elements don't change colour. Take text, for example,» explains Leonardo Hauschild, Lead UX Designer at Digitec Galaxus. «However, the colours assigned to other elements change depending on the context, including the «Compare» and «Add to watch list» buttons on individual product pages. Given the size of our shops, this quickly becomes very complex.» As colours are critical to user experience, it was important to find a way to efficiently coordinate and assign colours. Otherwise, we wouldn't have been able to keep the appearance of our online shops consistent – whether in dark mode or not.
After months of development and colour-palette work, the time has come. Dark mode is available throughout Europe on all Galaxus online shops, on Digitec and in the apps (from version 4.4).
Welcome to the Dark Side
People use dark mode for both aesthetic and practical reasons. In dim lighting, many people find dark backgrounds easier on the eyes – especially at night. Those using devices with an OLED display can even save power by activating dark mode, which in turn extends battery life. Others simply prefer dark mode as a style.
If you want to give dark mode on Galaxus or Digitec a whirl, you can activate it in the system settings on your device. We'll then adopt your preference, automatically displaying our online shops in dark mode. You can also turn dark mode on and off at any time via a drop-down menu. If you're using a web browser, you'll find one at the bottom of the page. Otherwise, you can do it via the app.
There's just one fly in the ointment: for user-friendliness reasons, product images are still displayed on a light background, albeit slightly darker than before. «This issue is really important to us,» Leonardo says. «Having evaluated numerous options, displaying product images on a white background is the best solution right now. Dark-coloured products would be difficult to see against a dark background.» Fancy finding out more about Digitec Galaxus's new dark mode and the technical challenges surrounding it? Check out this in-depth interview with Tobias and Leonardo.
What do you think of our dark mode? Tobias, Leonardo and everyone in our UX Design and Frontend Development Teams are keen to read your feedback in the comments.
---
---