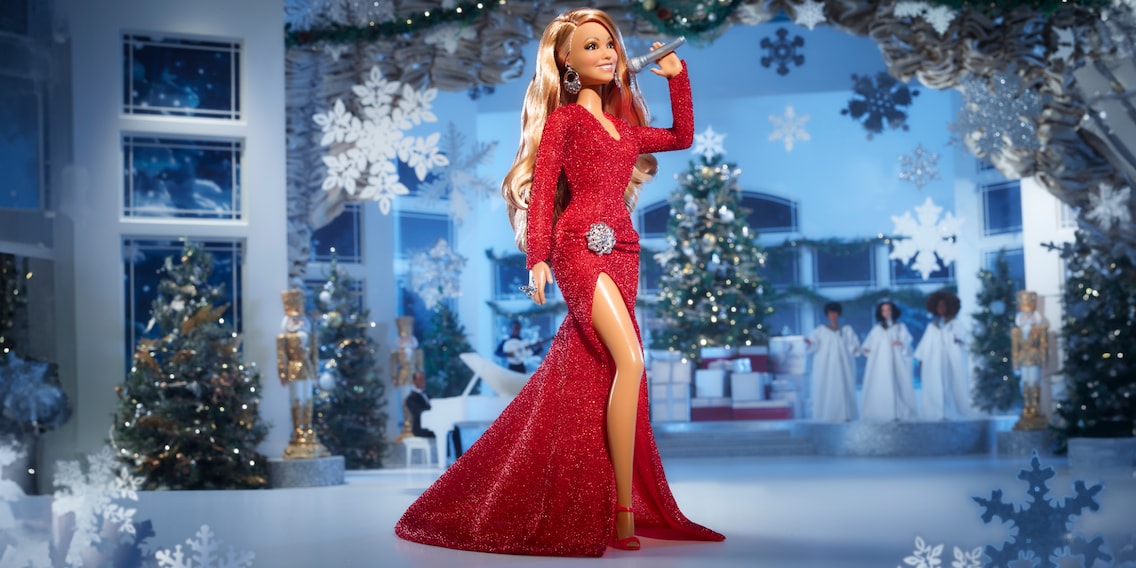 "Always my lifelong dream": Mariah Carey has her own Barbie
Translation:
machine translated
Who, alongside Wham, is a must for the Christmas season? Mariah Carey. The singer has now got her own Barbie - in her iconic red and glittery Christmas outfit.
"All I want for Christmas is youuuuu, baby..." Mariah Carey's voice is already ringing in your ears as soon as you read her name. Do you feel the same as me? And then there's the mental cinema: how she sings about Christmas and love in a red Santa Claus onesie and later changes into a glittering red Mermaid robe. It doesn't matter that the US pop star hasn't actually produced anything new since 2018 - because she is inextricably linked to Christmas, her cult song reverberates year after year. Last year alone, it generated one billion streams on Spotify.
You still haven't heard it yet? I'll be happy to help you out:
You can now have Mariah Carey in doll form in this dazzling evening dress with a brooch on her hip at the end of the video clip. The singer is now available as a signature Barbie, as manufacturer Mattel announced in a press release on Monday. The pop star herself also has her say: "It's always been a lifelong dream of mine to have my own Barbie!" exults Carey. "If I could tell my former self that one day I would have a Barbie in my own image, she would freak out!"
"I can hear the photo"
Her fans are freaking out now. "I've never wanted a Barbie so much in my life," commented one follower under Carey's announcement post on Instagram, referring to the song title. Another wrote: "I can hear the photo." Fans agree: the doll is very similar to the superstar. And they are delighted with the faithful details. The tiny butterfly ring on her right hand, for example.
The singer personally helped to make Mini-Carey look the way she does, as Mattel goes on to say. However, the signature Barbie also comes at a hefty price: she costs 149 francs in the Galaxus shop. You can pre-order her there now, but delivery is a little late for a Christmas present.
---
Mom of Anna and Elsa, aperitif expert, group fitness fanatic, aspiring dancer and gossip lover. Often a multitasker and a person who wants it all, sometimes a chocolate chef and queen of the couch.
---