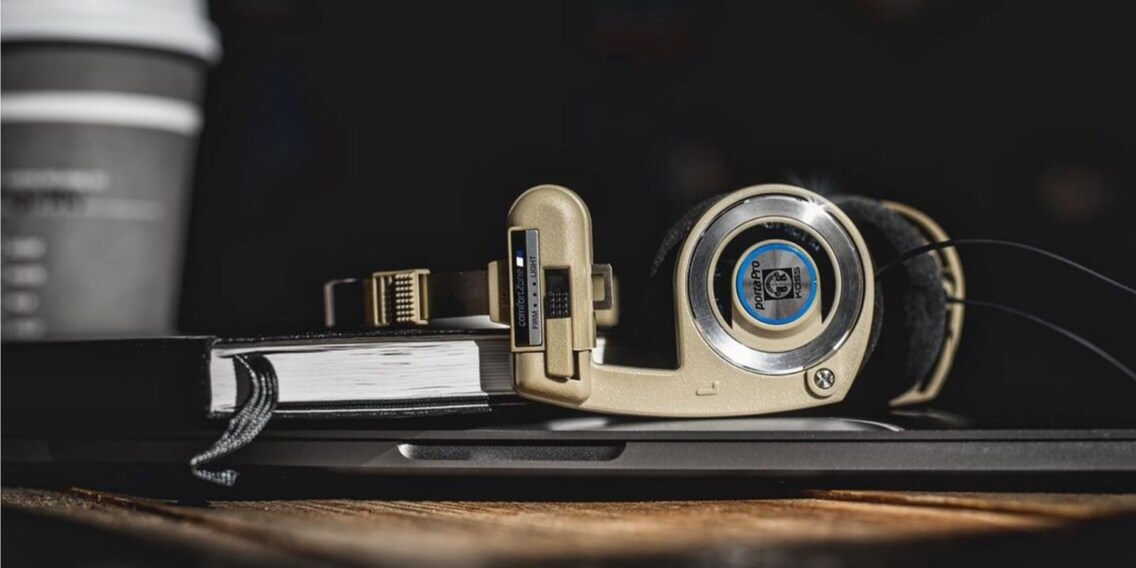 Whoever is cool still wears wired headphones

Translation:
machine translated
Every day, a new trend from the past is served up. On the menu today: Cable salad.
"Forget Airpods - Bella Hadid is bringing back the humble wired headset," proclaimed "Vogue" in a polarising article three years ago, sparking a series of questions. First and foremost: did they ever leave? That is debatable. What is clear, however, is that they have been technically overtaken by Bluetooth models and that these have dominated the market for some time. At the same time, a countermovement has emerged in recent years that celebrates the wired existence and even sees it as a fashionable choice.
Inspired by this, the Instagram account @wireditgirls was created at the end of 2021 - in other words, wired It girls. In one year, the profile gained around 13,000 followers and has since regularly featured photos of wired celebrities. Besides top model Bella Hadid, this includes the hippest of the celebrity kids, Zoe Kravitz and Lily Rose Depp, "Wednesday" main character Jenna Ortega and social media star Emma Chamberlain - the usual trendsetters. But also Hollywood legend Al Pacino, who likes to talk expressively on his earpods in public, or actor Jake Gyllenhaal, who in turn likes to chew his expressionlessly.
Even the tech-savvy Parisian high-fashion brand Coperni has recognised the fashion potential of wired headphones. For its 2023 summer collection, the label presented a silver necklace depicting earpods wrapped messily around the neck. Hair as fresh out of bed was yesterday - today cables as fresh out of the bag are the order of the day. The more tangled and tangled, the better. One thing is certain: wired headphones are the antithesis of stressed-out finance and tech bros with earpods in their ears: carefree, casual, cool.
In sales, the trend is not yet noticeable
. However, the trend has not yet arrived in our shop, as Senior Category Manager Claudio tells me. He is responsible for purchasing headphones at Digitec Galaxus. "While we still sell some corded headphones, with a few exceptions they are in the lower price segment. With wired models starting at around 80 francs, we're already talking more about a niche product," says Claudio.
In his opinion, this will not change any time soon: "As long as mobile manufacturers don't bring back the jack socket, wired models will have a hard time on the mass market - trend or not. There are, however, niche companies that can make a very good living from wired headphones. "And of course we don't let them gather dust in the corner either," Claudio emphasises.
After all, there are numerous practical reasons in favour of cables. The earpieces don't fail in the middle of a song because of battery failure, they don't try to connect randomly to other devices in the vicinity, they are less likely to be trampled or misplaced because they fall out of the ear, they don't cause radiation and they are already available at a lower price. Bonus points also go to the fact that they have saved many a mobile phone from falling.
Nostalgia makes old electronics modern
Claudio also points out that wired headphones definitely have a certain retro nostalgia feel to them, which is somewhat booming again right now. The 2000s revival, probably the strongest trend movement of recent years, has made outdated technologies contemporary again. Thanks to Generation Z's fascination with vintage electronics, videos about noughties relics such as flip phones and ipods on Tiktok are getting hundreds of millions of views. This phenomenon can be understood as a rebellion against the fast pace of technological innovation, against the notion that newer must always be better. As a clinging to the tried and tested and imperfect. As a desire to make this complex networked world a little more tangible.
Because through a complex networked world, we can make a difference.
Because through glasses tinted with nostalgia, everything appears more beautiful, simpler, better. The love of retro devices is therefore not a new trend. Whether analogue cameras, typewriters or record players - technologies from the past with their charming quirks have always had their charm and a loyal, enthusiastic fan group. Now cable headphones are also part of it.
You want to join the fan club too? These seven models make particularly good fashion accessories: .
Apple Earpods
Dangling from Bella Hadid's ears, Earpods started the hype in the first place. They are still the third best-selling headphones in our country this month, more than ten years after they were first launched, mind you.
Koss Porta Pro
These headphones from the 80s have been a favourite for what feels like forever, according to Claudio. They have an unmistakable retro vibe and are something of an it-bag among bail-bound headphones right now.
Sennheiser HD 599
The colour combo of brown and beige and the matt silver details give this one a trendy touch of vintage.
FiiO FD3
A braided cable that goes over the ear and plugs with pearloid and gold accents make these in-ears almost a piece of jewellery.
Beyerdynamic DT 1770
These oversized Pro earpieces deliver premium sound quality and come with a coiled cable. Coiled cable!
Sony WH-1000XM4
One of the best sellers in the shop and actress Jenna Ortega's over-ears of choice. The cream and white option looks particularly stylish. They work both with and without a cable.
Shure SE215
This model, with its cool transparent look, was originally designed for the stage and is sound isolating - a good alternative to noise-cancelling technology that runs only via battery.
Auftaktbild: Instagram: @koss
---



Has endless love for shoulder pads, Stratocasters and sashimi, but a limited tolerance for bad impressions of her Eastern Swiss dialect.
---