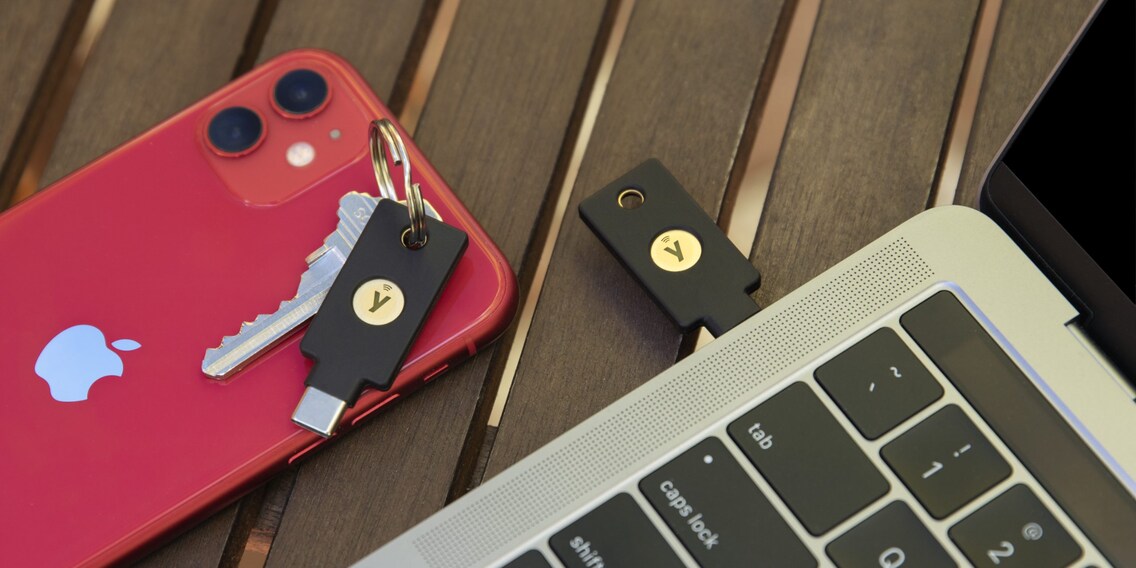 This article was translated automatically.
iOS 16.3: Two security keys needed to secure Apple ID
With the latest updates, Apple devices support security keys. However, you need at least two USB sticks to set them up as a second factor for logging in.
With the update to iOS 16.3, iPadOS 16.3 and macOS 13.2, iPhones, iPads and Macs now support so-called security keys for two-factor authentication. Instead of an SMS or email with a confirmation code, you use (USB) sticks as login confirmation. Apple wants you to set up at least two.
Loss Limitation
The requirement to set up two security keys was discovered by MacRumors in a support document from Apple. The idea is simple: if you lose a stick, you are not completely locked out of your account. The security key in your hand replaces the six-digit login confirmation code that Apple sends via SMS or displays on your other devices. Without the USB key, you're really screwed.
Google allows you to use the security key for your account.
Google allows you to set up your account with just one key, but recommends using two. With Apple, you can set up a total of up to six security keys for your Apple ID. These must comply with the FIDO standard. Apple recommends three models as examples: The YubiKey 5C NFC, which fits into Macs with its USB-C connector and works with iPhones via NFC. The YubiKey 5Ci with USB-C connector on one side and Lightning connector on the other. The Feitan ePass K9 NFC USB-A, as the name suggests, fits into the USB-A ports of older Macs and has NFC on board for iPhones.
With iOS 16.3 and the other updates, Apple has made "Enhanced Privacy" available worldwide. End-to-end encryption of data in the iCloud was with iOS 16.2 only available in the US for the time being.
Titelfoto: Yubico
---



When I was but a young student, I'd sit in my friend's living room with all my classmates and play on his SuperNES. Since then I've had the opportunity to test out all the newest technology for you. I've done reviews at Curved, Computer Bild and Netzwelt, and have now arrived at Galaxus.de. 
---
These articles might also interest you
Skeleton Loader

Skeleton Loader

Skeleton Loader

Skeleton Loader

Skeleton Loader

Skeleton Loader